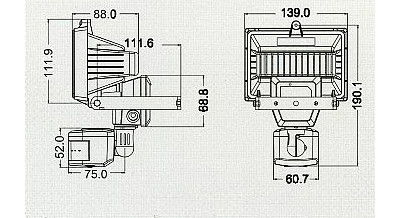 4 keys in LED Outdoor Light Design
LED outdoor lighting design should comply with the latest outdoor lighting technical specification,
and the standard of urban road lighting design.
1, Working Enviroment
LED outdoor lighting, due to the working environment is poor. It will directly meet the wind blow,
the rain, the sun. And the sun ultraviolet radiation, the temperature difference between day and
night, dust. The design should fully consider the impact of these factors.
2, Material and Heat Disspation
Shell and heat sink design as a whole, which is used to solve the heat dissipation of LED, this way
is better. Generally choose aluminum or aluminum alloy, copper or copper alloy, and other alloy
thermal conductivity is good. Cooling with air convection cooling, wind cooling, heat pipe cooling.
Choose what kind of operating mode, has a direct impact on the cost of the lighting, should be
overall considered, and choose the best scheme to form a complete set of product.
Chimney design material selection is also crucial. Currently have transparent organic glass, PC
material. Traditional chimney is transparent glass. Choose what kind material of chimney associated
with design products' positioning. In general, the chimney of outdoor lighting, the best is glass.
It is the best choice for high-grade lighting. Transparent material such as plastic, organic glass,
is good for chimney of indoor lighting. Used for outdoor life is bad. Outdoor sunlight, ultraviolet
rays, dust, chemical gas chimney aging, the change in the temperature difference between day and
night. All these factors will shorten service life. The contamination is not easy to clean, reduce
chimney transparency, and affect the light output.
3, LED Chip Package
Current LED outdoor lighting (mainly street light) is using 1 w high power LEDs in series, in
parallel to assemble. This method is of high thermal resistance is relatively advanced packaging
technology products, it is not easy to make high quality lamps and lanterns. Or it is 30 W, 50 W and
even larger modules assembled, in order to achieve the required power. These LED, package material
useful epoxy resin, use silica gel. The difference between them: Epoxy resin heat resistance isWatch Full Movie Online Streaming Online and Download
poorer. Silica gel is good heat resistance.
Adopt the overall packaging chip and heat sink is a good choice. Or the aluminum substrate multichip
packaging, again through the phase change materials or heat dissipation silicon grease and radiator
connected. Make product heat resistance one to two way more conducive to heat dissipation than with
the LED device assembly product. Use LED module's lighting, module substrate generally is copper
base plate. Its connection with outer radiator,  use good heat dissipation silicon grease, can
guarantee the copper substrate heat outside in a timely manner to the radiator. If the processing is
not good, easy to make heat accumulation caused by module chip temperature rise too high. Multi-chip
packaging suitable for general lighting, module packaging for compact space limited LED light.
4, Heat Sink Design
Heat sink is one of the key component. Its shape, volume, heat dissipation surface area should be
designed to the point. If heat sink is too small, the LED working temperature is too high, affecting
the luminous efficiency and life span. If heat sink is too big, consumption materials more to
increase the product cost and weight, make the product competitive power. Heat sink design should
take follows into consideration.
1) Definite the nessary heat dissipation rate of LEDs.
2) Design the heat sink with some parameters: metal specific heat, coefficient of thermal
conductivity of metal, the chip thermal resistance, heat sink thermal resistance and ambient air
thermal resistance, etc.
3) Determine the type of heat dissipation, natural convection cooling, wind cooling, heat pipe
cooling, and other way of heat dissipation.) From a cost comparison: natural convection is the
lowest cost, strong breeze cooling medium, the heat pipe radiator construction cost is higher, the
jet cooling cost is the highest.
4) Determine the LED lighting highest working temperature.
5) Calculate the volume of the heat sink, heat dissipation area. And to determine the shape of the
heat sink.
6) Make complete lighting, work eight hours, at room temperature is 39 ℃ to 40 ℃ . Test it whether
meet the cooling requirements. If test calculation is not correct, cannot meet the conditions of
use, have to recalculate and adjust the parameters.
7) Heat sink and lamp chimney seal to be waterproof, dust proof. Fill anti-aging rubber or silicone
rubber mats between lamp chimney and heat sink, with stainless steel bolts, to be sealed waterproof,
dust proof.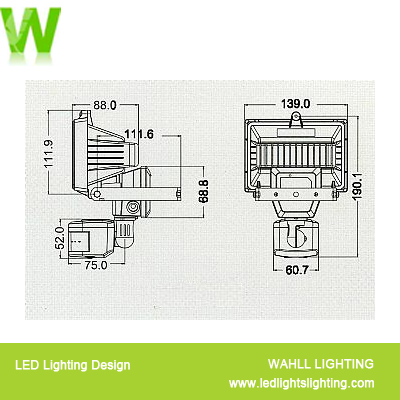 Share