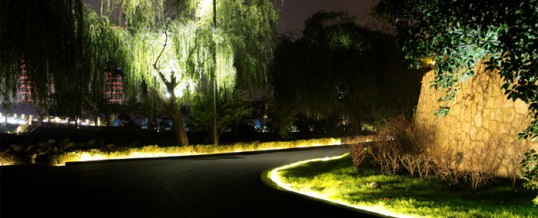 Garden Landscape Lighting
Garden Landscape Lighting is consist of waterscap, Foutain, watter falls, tree, road…
Waterscape is an important part of garden landscape. There are many forms, like open water, rippling lake scene, and also water pools, fountains, waterfalls…
Water surface illumination method is mainly used landscape beside water, like trees, small hill, railings' lighting to form water reflection. Reflection and real landscape, contrast each other, together with the dynamic effect, makes it fantastic.
For fountain, watter falls, use underwater lighting. Rank the same or different color lights by one certain design, and up illuminating, it will be full of interesting.
Tree is the main element consist of landscape. Tree is various, in addition to beautifying the environment, there is protecting the environment. Lighting should be according to the characters of tree height, size, shape and color.
Garden road illumination method: It is the skeleton of garden, lead visitors to sites from entrance. Path is winding, giving persons a step a viewing effect. Lighting method should stick on this characteristic.
The sculpture. One kind is ornamental. Another kind is memorable. Lighting design should from the characteristic of sculpture. Especially the key parts, such as: head, expression, material, color and the surrounding environment. Using top-down cast light, so as to cause look real and lustre.  Should choose narrow beam light, the direction of sight should prevent glare interference of visitors.
Share